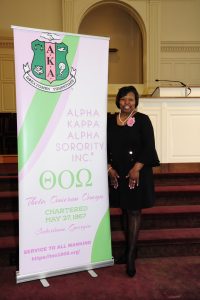 Greetings and Welcome to Theta Omicron Omega Chapter's Website,
On behalf of the illustrious members of the Theta Omicron Omega Chapter of Alpha Kappa Alpha Sorority, Incorporated®, I welcome you to our chapter's website! My name is Sherry Turner, and it is an honor to serve as the seventeen president of this great chapter. Since 1967, the Theta Omicron Omega Chapter has served our community through empowering individuals through our programs, service initiatives and platforms. Our chapter membership is comprised of very diverse and distinguished group of college-educated women who offer their time, talents and resources to engage and educate our community. Our Chapter has a rich history of service and sisterhood that has enabled us to make a meaningful impact within our community for over 53 years. We honor our mission of providing service to all mankind and we support each other for we know there is no other like our sisterhood.
Alpha Kappa Alpha Sorority, Incorporated® was founded in 1908. It is the first founded by college-educated, African-American women. From its humble beginnings at Howard University in Washington, D.C. more than a century ago to its global footprint today, it is with great pride that the members of Theta Omicron Omega continue to advance the legacy of our founders.
Our chapter is part of the Significant South Atlantic Region, which is comprised of Florida, Georgia and South Carolina, under the leadership of Regional Director Carolyn G. Randolph. We are committed to continuing our legacy of service under the leadership of our 30th International President, Dr. Glenda Baskin Glover, Ph.D., JD, CPA, Alpha Kappa Alpha Sorority, Incorporated® remains a vital 21st-century service organization that addresses some of the greatest human rights, civil rights, and social issues in our society today. The sorority's 2018-2022 International Program Initiatives under the platform of "Exemplifying Excellence Through Sustainable Service," will address community needs with programs in five target areas:
HCBU for Life: A Call to Action
Women's Healthcare and Wellness
Building Your Economic Legacy
The Arts!
Global Impact
Chapter members will also render service to the Northwest, Georgia community through a number of other local programs including Community Impact Days and our signature enrichment program #CAPSM, College Admissions Process. This hands-on program is designed to empower, engage and assist high school students with the college application and admission process.  Another program focused on high school students is our Lords and Ladies Cotillion program.  For 22 years, the Cotillion has provided young men and women who are high school juniors and seniors an opportunity to earn scholarships, increase knowledge in the areas of finance, health, career options and much more.
As Alpha Kappa Alpha women, we are committed to providing service and support to our community and fulfilling the mission of our beloved organization. We invite you to explore our website and learn more about our organization, our chapter programs and events. Also, like and follow us on Facebook, Instagram and Twitter to engage with us.
If the Theta Omicron Omega Chapter can be of service to you, or if you have any questions or concerns, please feel free to contact us at thetaomicronomega@gmail.com.
Yours in Sisterhood & Service,
Sherry Turner, President
Alpha Kappa Alpha Sorority, Incorporated
Theta Omicron Omega Chapter
"Serving All Mankind in Bartow, Carroll, Floyd, and Polk Counties since 1967"