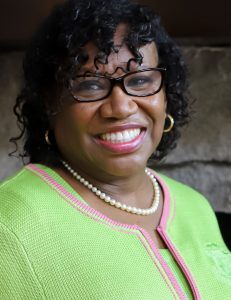 Greetings and Welcome!
It is my pleasure to extend a hearty welcome from the members of Alpha Kappa Alpha Sorority, Incorporated®, Theta Omicron Omega Chapter.  Thank you for visiting our website!  Since 1967, Theta Omicron Omega Chapter has served the communities of Bartow, Carroll, Floyd, and Polk counties.  This year we will celebrate 54 years of service in these communities.  We have been empowered by our charter members and all the other members who came after them to keep striving for excellence as we serve our communities. They were and we are very proud of the legacy started by our Founders on January 15, 1908, on the campus of Howard University in Washington, D.C.
Currently, we serve under the international leadership of Dr. Glenda Glover, our 30th International President, and under the regional leadership of Mrs. Carolyn G. Randolph.  We are implementing the 2018-2022 international programs of service under the theme of "Exemplifying Excellence Through Sustainable Service".  The five target areas we are focusing on are as follows:
HBCU for Life: A Call to Action
Women's Healthcare and Wellness
Building Your Economic Legacy
The Arts!
Global Impact
The Signature Program is #CAPSM which is the abbreviation for College Admissions Process.  It is designed to assist students in their efforts to enter college by providing a hands-on approach which includes all the steps from researching various colleges to actually completing the application process.  We also serve our communities through several Community Impact Days.  Additionally, we host a biennial Cotillion which is an event to help male and female high school students in our communities gain needed scholarship money.
For over 113 years Alpha Kappa Alpha Sorority Incorporated® has partnered with our local communities, regional, and national organizations to both solve problems and to be of service to all mankind at home and around the world.   It is our desire to lift up the communities we serve and we hope that after you peruse our website, you will see just how committed we are to meeting our targets and serving with excellence.
Please return often to our website for program target details and updated events.  You can also find more information about our programs by liking our Chapter Facebook, Twitter, and Instagram pages.
If you ever need to engage with our chapter directly, please feel free to email us at thetaomicronomega@gmail.com.
Serving With Excellence,
Yvonne Prater
President