Upcoming Special Events
Theta Omicron Omega Target 2: Women's Health would like to invite you to use this helpful guide for a healthy, fit, and active summer.
Spirit Week 2021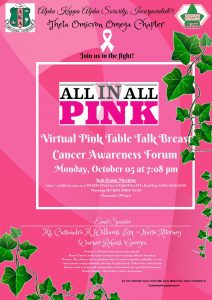 Alpha Kappa Alpha Sorority, Incorporated Founders' Day – January 15, 2020
Reactivation Day 2020: "It's a Celebration! ~ "No SWEAT"
Wild Crab Restaurant
4471 Jimmy Lee Smith Pkwy
Hiram, GA 30141
6:30 PM
(*SORORS ONLY)
Dr. Martin Luther King, Jr. International Day of Service – January 20, 2020
Founders' Day Celebration ~ February 8, 2020 (Public Event)
Pearls of Sisterhood & Service ~ A Legacy of Leading the Way
The Women's Building
415 Wissahicklon Avenue
Cedartown, GA 30125
4:00 pm
Attire: Dressy
Chapter Leadership Development Retreat ~ March 6-8, 2020
AKA International Day of Prayer ~ August 23, 2020
Chapter Retreat ~ September 11-13, 2020
National HBCU Week ~ September 20-26, 2020
Theta Omicron Omega Observes National HBCU Week!
AKA HBCU Day ~ September 21, 2020
The sorority will honor and recognize HBCUs by making individual financial contributions ($35 or more) and highlight important contributions of HBCU alumni.
Caring for the Caregivers Celebration ~ November 20, 2020
November is National Family Caregivers Month. The annual observance is a time to honor family caregivers.
Please join the Theta Omicron Omega Chapter of Alpha Kappa Alpha Sorority Incorporated as we recognize and honor family caregivers on November 20th. The event will provide education, peer support and resources. Light refreshments will be served.
*Monthly Chapter Meeting Dates & Conference Dates
January Chapter Meeting ~
January 11, 2020 @ 10:30 am
February Chapter Meeting ~
February 8, 2020 @ 10:30 am
AKA Day @ The Capital ~ February 10, 2020 ~ Atlanta, GA
March Chapter Meeting ~
March 14, 2020 @ 10:30 am
April Chapter Meeting ~ (Virtual)
April 4, 2020 @ 10:30 am
May Chapter Meeting ~ (Virtual)
May 2, 2020 @ 10:30 am
June Chapter Meeting ~ (Virtual)
June 13, 2020 @ 10:30 am
AKA 69th Boule –July 15-19 (Postponed)
September Chapter Meeting ~(Chapter's  Retreat)
September 12, 2020 @ 9:00 am
Cluster V Conference Meeting ~(Cancelled)October 10, 2020 – Atlanta, GA SAR Conference ~ (TBD)
October Chapter Meeting ~
October 17, 2020 @ 10:30 am
November Chapter Meeting ~
November 14, 2020 @ 10:30 am
December Chapter Meeting ~
December 12, 2020 @ 10:30 am
*Monthly Chapter Meetings Information
Theta Omicron Omega's monthly chapter meetings are open to AKA sorority members only. The meetings are held on the second Saturday of every month EXCEPT in July and August at 10:30 am in the Women's Building located at 415 Wissahicklon Ave., Cedartown, GA 30125. If you're new to the Northwest Georgia area or you are seeking a new AKA chapter, we cordially invite you to join us for our next meeting! Visiting AKA sorority members are welcomed with proof of membership & ID.
Requirements to Attend a Chapter Meeting
In accordance with the National Standard Operating Guidelines and Chapter Protocol, members are asked to provide two forms of identification (one Primary and one Secondary) for meeting entry. Primary identifications may include any government issued ID. Secondary Identifications may include, but are not limited to:
A current or past financial card (In most cases, the name listed should match the Primary ID. Exceptions: maiden name, married name)
A copy of your original membership certificate signed by our National Office
A receipt from a Cluster, Regional Conference or Boule that contains your name
An Ivy Leaf magazine with the address label attached that contains your name
Note: If you have questions and/or will not be able to produce the necessary documentation, please contact the chapter's Membership Chairman no later than the Wednesday prior to the monthly meeting with the following subject line: ENTRY REQUESTED–TOO Monthly Meeting.  Thank you for your consideration and adherence to our guidelines and we look forward to seeing you at our next meeting!